The UFC 4 update 13.00 has been released for PS4 and Xbox One. UFC 4 13.00's official patch notes reveal that the latest update introduced a new fighter, six new legend versions of fighters, and options for customizing player cards and vanity cards. Besides these additional improvements, the patch 13.00 for UFC 4 also offers improved stability.
A recent update to the game added numerous tweaks and fixes. However, several problems still persist with the game. The newest version of UFC 4 will address most of these problems. See below for details.
UFC 4 Update 13.00 Patch Notes Details, November 4, 2021
The newest update to UFC 4 is live with an all-new fighter, updates to vanity, and new PRIME ICON fighters for a fresh UFC 4 experience. Check out the full trailer for the patch here and get full details of this patch below.
Making his UFC 4 debut, comes Russian lightweight fighter Islam Makhachev, entering the Octagon as a direct result of community feedback.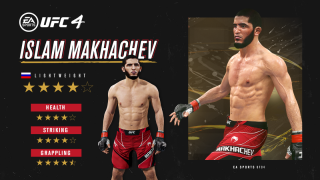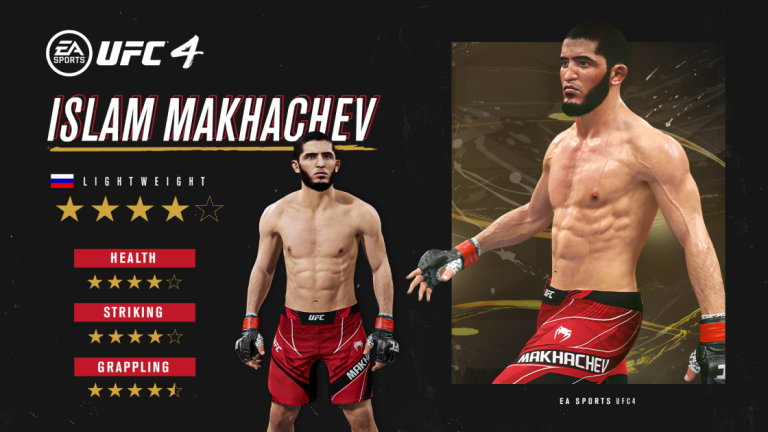 Fighting alongside Makhachev come PRIME ICON fighters, a new type of fighter that highlights some of the best athletes in the UFC. PRIME ICONS, distinct from Legend Fighters, are icons of UFC history returning to the EA SPORTS UFC Octagon with the ratings and skills they had in their prime fighting years. The set of PRIME ICON fighters added in the patch are Khabib Nurmagomedov, Georges St-Pierre, Anderson Silva, Michael Bisping, Alistair Overeem, and Joanna Jędrzejczyk.
Dropping with the six PRIME ICONS, is a free, limited-time PRIME ICONS customization pack that includes a Khabib PRIME ICONS themed profile customization with new backgrounds, and profile pictures as well as a PRIME ICONS profile picture, background, and two flairs. In addition to this new vanity are PRIME ICON Muay Thai shorts, board shorts, and Vale Tudo shorts sets.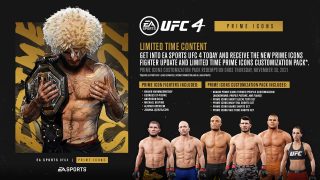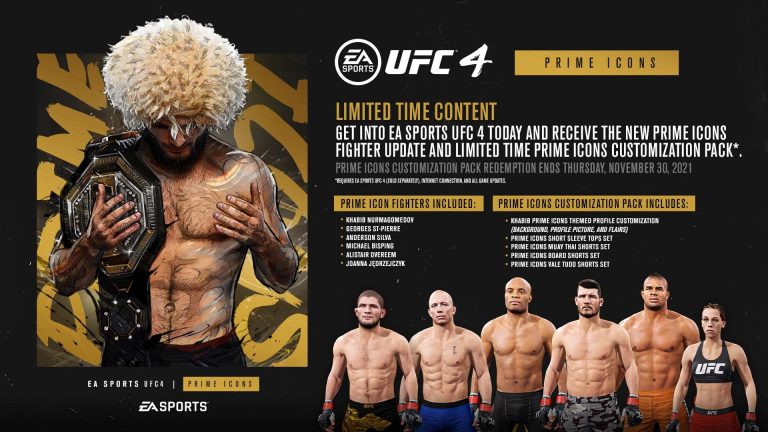 The free PRIME ICONS Customization pack can be redeemed up until Thursday, November 30, 2021 when the pack will become unavailable. If players miss the redemption window, they will not be able to redeem the full contents of the customization pack, but they will still receive all PRIME ICON fighters as well as PRIME ICONS bra vanity.
As a final note, while developers concentrate their resources on future improvements to the franchise, there will be no gameplay updates for this patch. Thank you for your continued support and good luck in the Octagon!
Major Updates
Added new fighter, Islam Makhachev
Added new PRIME ICON versions of Khabib Nurmagomedov, Georges St-Pierre, Anderson Silva, Michael Bisping, Alistair Overeem, and Joanna Jędrzejczyk
PRIME ICON Customization Pack is now available until Thursday, November 30, 2021