Update 1.45 for Call of Duty warzone is now available for download on PS4, PC, and Xbox One. In the official patch notes for COD Warzone 1.45, there are various fixes, improvements, and changes. Furthermore, this patch also improves stability.
In an earlier update, a new MP map, a new Operator, new weapons, and more were added. Additionally, changes were made in several areas for a better gaming experience.
Despite the recent fixes, many players are still having problems with the game. In today's update for Call of Duty Warzone, a few of these issues have been fixed. Read on for more information.
Call Of Duty: Warzone Update 1.45 Patch Notes Details, November 4, 2021
Playlist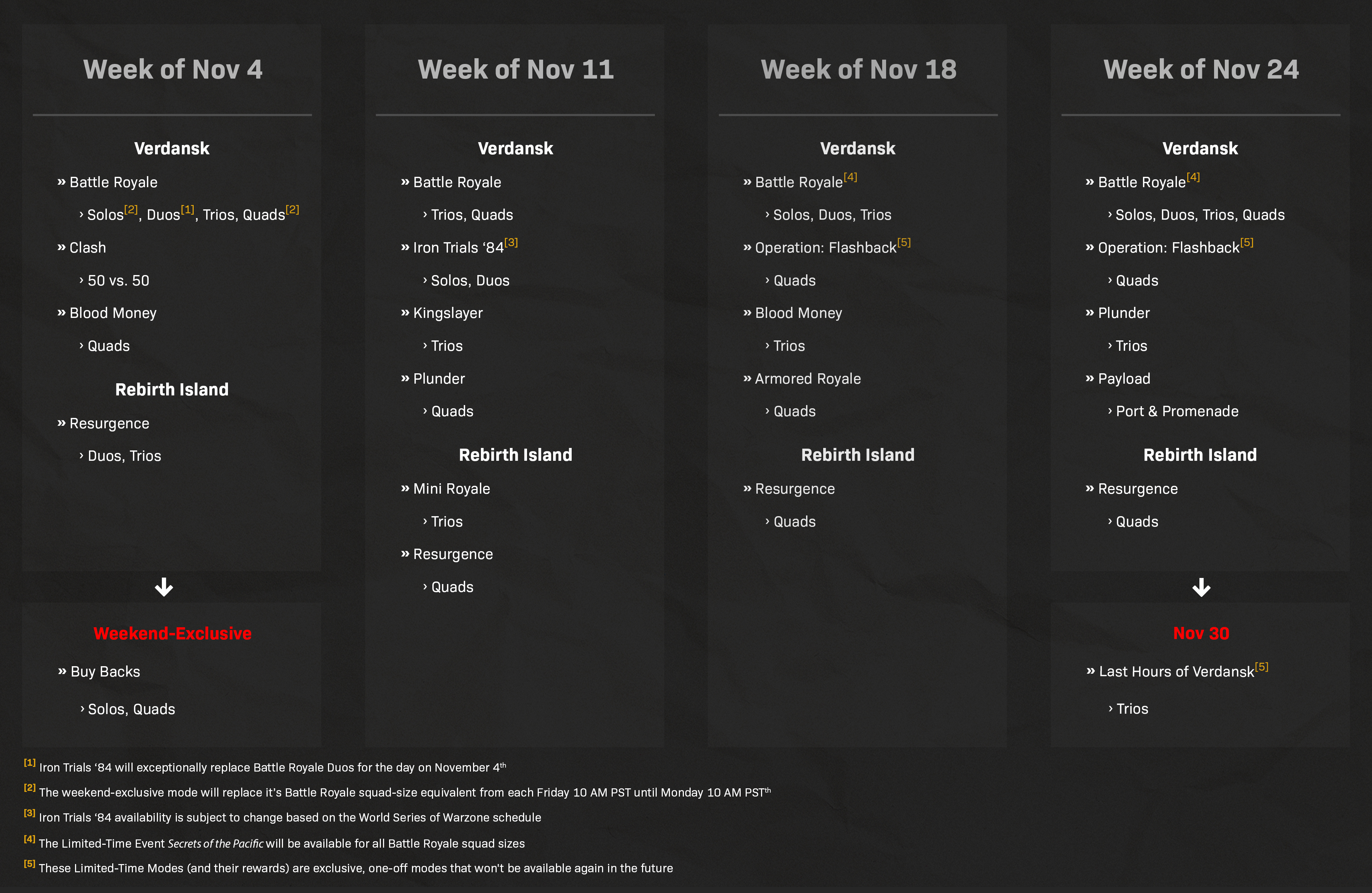 General
New Warzone Trello Board
As of now, we will be using a new Warzone-only Trello board to aid us in our endeavor to improve the quality of our communication with you, our community! We hope that this board, alongside our continued Twitter updates, will keep you all as informed as possible on a number of items both in and out of the game.
The type of information you can expect to find on this new board includes:
Links to Patch Notes
Playlist updates
Schedules for Limited-Time Events/Modes, Double XP Weekends, and more
The top tracked Live Issues in Warzone
A history of past Playlists, Events, and Resolved Issues
Check out the new board here: https://trello.com/b/ZgSjnGba/warzone
Thank you to our friends at Treyarch for the shared real estate over the past year
Bug Fixes
Fixed an issue causing the "Science" Camo Unlock Challenge for the R1 Shadowhunter (BOCW) to not track.
Fixed an issue causing the Camo Unlock Challenges for the Nailgun (BOCW) to not track.
FIxed an issue with the text on the "Surprise Splash" Legendary Assault Rifle Echo (BOCW) Blueprint.
Fixed an issue causing incorrect text to appear for the LAPA (BOCW) Weapon Unlock Challenge.
Fixed various issues with Attachment visibility on the "High Stakes" Light Machine Gun Delta (BOCW).
Fixed an issue with the "Phoenix Inferno" Assault Rifle Delta (BOCW) Blueprint where the ADS animation was incorrect.
Fixed an issue causing the Ghost Perk to not work correctly.
Fixed an issue causing the After Action Report to not show the Player's full ATVI ID.
Fixed an issue causing the Party Leader UI to overlap with the text chat window.
Fixed an issue causing the Charly Operator's default execution animation to play incorrectly.
Fixed an issue causing Players to get kicked from the Favorite Operators menu.
Fixed an issue causing Players who are killed in the pre-match lobby to start a match as dead.
Fixed an issue causing damage dealt with a vehicle to a downed enemy to not register.